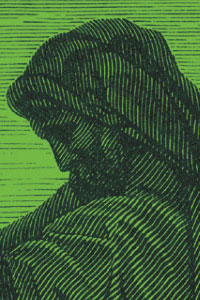 Modern Prophets Following in my Footsteps
Justice Stephen Breyer When the gavel sounds, Supreme Court Justice Stephen Breyer seeks justice in every case.
Lee Rosenthal Fighting injustice wherever he finds it, Lee refused to stand idly by in the face of atrocities in Darfur.
Amos
Faithful Friend of the Covenant
About
Favorite Quotation:
"Let justice flow like water, righteousness like a mighty stream" (Amos 5:24).
Favorite Pastime:
Tending sheep and fig trees.
Biggest Fear:
Public speaking.

Greatest Loss When He Left Judah:
The peace and quiet of country life.
Major Contribution:
Taught that social justice, or concern for people who have the greatest needs, is at the heart of all good societies and key to the survival of the Jewish people.
Beginnings
Born in the early eighth century BCE in Tekoa, on the edge of the Judean wilderness, twelve miles south of Jerusalem, the capital of Judah.
Hebrew Name: Amos, meaning "burdened."
Groups I Belong To
Vayeishev (H), Shof'tim (T)